Members First of Maryland Federal Credit Union is here to help you reach your financial goals by working with Atkinson Financial Solutions of Janney Montgomery Scott. The Atkinson Financial Solutions team of Janney can provide you with personal investment services.
John E. "Jay" Atkinson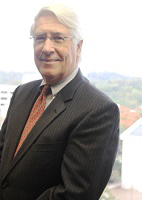 For over 30 years, I've dedicated my career to guiding investors through some of life's most challenging financial situations. As a Financial Advisor I assume many responsibilities related to your overall investment strategy and can assist you in a variety of ways. Through consultation, education and a commitment to offering the highest quality of service and advice based on trust, respect, and most importantly, integrity, I have helped many clients accumulate, grow, preserve and enjoy their savings and retirement funds. I have also served as an investment advisor to Members First for over 25 years, helping the credit union make sound investments and navigate through challenging economic cycles. I look forward to working with Members First members to help them achieve their financial goals. Please contact Atkinson Financial Solutions and mention your membership with Members First.
Our Services
Investment Management
Financial Planning
Retirement Planning
College Savings Plans
Follow this link to find out more
Atkinson Financial Solutions
409 Washington Avenue
Suite 815
Towson, MD 21204
Phone: 410.494.9500
Fax: 410.296.7104
Email: jatkinson@janney.com
Securities and Investment Advisory services offered through Atkinson Financial Solutions as Registered Representative(s) and Investment Adviser Representative(s) of Janney Montgomery Scott LLC a Registered Investment Adviser. www.Janney.com Member NYSE FINRA SIPC. Atkinson Financial Solutions of Janney Montgomery Scott does not provide legal tax or accounting advice, please consult with the appropriate professional concerning your particular circumstances. Investing may involve market risk, including possible loss of principal. Past performance is not indicative of future results. Investments are not insured by NCUA, nor are they deposits of or guaranteed by a credit union or any other entity